Mollena es una de las personas más referenciadas en la comunidad BDSM.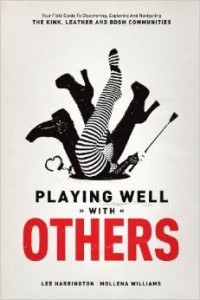 Ella es coautora (con Lee Harrington) de "Playing well with others: your field guide to discovering, exploring and navigating the Kink, Leather  and BDSM communities", una de las mejores guías de protocolo del BDSM, y el primer libro que explica la cultura Kink.
En todos los sentidos de la palabra, ella es una gran mujer. Quedo con Mollena en su apartamento.
¿Cómo te ganas la vida?
Ahora mismo, mi trabajo oficial es enseñar, escribir y dar clases presenciales de educación BDSM. Buena parte consiste en ser ponente en conferencias. Lo que más me gusta es dar charlas en universidades. Tengo un par de citas ahora en Nueva York, y ya tengo comprometido hasta final de año.
¿Qué cosas haces en la universidad?
Enseño mucho BDSM básico, Kink y sexualidad alternativa, para las personas que tienen curiosidad acerca del Kink. Me vienen y me preguntan: "creo que soy "kinky", pero ¿cómo puedo practicarlo con seguridad? ¿Cómo puedo saber si soy dominante o sumiso, cómo conocer a otras personas, cómo puedo cuidarme y permanecer seguro…?
LA "SEX WEEK" EN LA UNIVERSIDAD
¿Y esto sucede dentro de la universidad?
Habitualmente, son grupos organizados por los estudiantes. Muchas universidades empiezan a celebrar lo que llaman "Semana del Sexo", e invitan oradores y conferenciantes de todas partes. Tengo un grupo de estudiantes "kinky" que organizaron su propio club kink. No fue fundado por la universidad en sí. Creo que fue en Princeton, hace un par de años, porque alguien me había visto hablar en otro sitio y dijo: "quiero que vengas a Princeton". Y así, alcanzamos un acuerdo por el que ellos reunirían el dinero para invitarme a dar una conferencia. Así es como está la gente de necesitada de tener esa conexión, y creo que es fantástico que sean personas cada vez más jóvenes las que se interesen por esta formación.
¿Cómo es posible que en las escuelas estén prohibiendo la educación sexual y, de repente, en la universidad haya algo así como la "Semana del sexo"? ¿Qué sucede entre una cosa y la siguiente?
No está prohibido en muchas escuelas, depende de dónde estés.
Yo recibí educación sexual cuando fui al colegio, y eran los años 70. Pero eso era en Nueva York. Muchas partes de América son muy conservadoras, y para eso es la "Semana del sexo". En la etapa universitaria hay mucha gente que viene con 17, 18 ó 19 años. Seguramente ya han tenido algún tipo de contacto o experiencia sexual. Y casi todos han tenido fantasías de algún tipo. Hablamos de cosas como cómo protegerse a uno mismo, sobre violación o consenso,  hablamos de los asuntos básicos. La idea es que la gente con más información se sienta con más confianza en sí misma. La "Semana del sexo" consiste en que puedan hablar sobre todos estos asuntos abiertamente. Y no se trata sólo de que vengan unos expertos a hablar, es de igual a igual. Se organizan mesas redondas para discusión entre estudiantes, fiestas, y es la forma en que ellos lo sacan a la luz y aprenden a tratarlo con más confianza.
Mi pareja tiene sesenta años, y siempre ha deseado ser "kinky". Él tenía dudas sobre el Kink y el BDSM desde que tenía doce. Y ahora, por primera vez puede vivirlo en una relación. Es una pena. Es diferente si alguien lo descubre y entonces tiene este despertar. No es nada bonito cuando alguien tiene el deseo, y en lugar de explorarlo lo reprime, lo encierra o lo aplasta, y le dicen que son malas personas, que no pueden hacer esas cosas, y arrastran la vergüenza y la culpabilidad.
CRÍTICA A "50 SOMBRAS DE GREY"
Con suerte, las personas que asisten a la "Semana del sexo" sufrirán un porcentaje menor de culpabilidad y vergüenza sobre su sexualidad. La gente está hablando cada vez más sobre esto. Parte se debe a "50 sombras de Grey". Mucha gente que se escandaliza diciendo "oh, 50 sombras de Grey era terrible", porque realmente es un libro mal escrito. Resulta que un par de cosas eran, simple y llanamente, peligrosas, y la gente responde "bueno, es una obra de ficción", a lo que respondo "es ficción sexual". Así pues, si leo sobre sexo en un libro que parece factible, no estamos hablando de colgar a alguien de un gancho para sacarlo de una torre de veinte pisos en llamas, estamos hablando de la práctica del Bondage. El lector medio puede querer imitarlo, y puede acabar en un hospital con daños en las muñecas por falta de riego por haber imitado lo del libro sin saber.
Por otra parte, hay mucha gente "kinky" que asume que, de repente, va  a haber esta marea de habitantes de urbanización que van a inundar nuestras mazmorras. Pero lo realmente positivo es que "50 sombras de Grey" se ha convertido en una base para poder emprender una discusión abierta sobre el Kink.
ALGO DE AUTOBIOGRAFÍA
Entonces, estás en la universidad, estás dando clases, eres profesora en sexualidad. ¡En la escena BDSM neoyorkina eres todo un icono!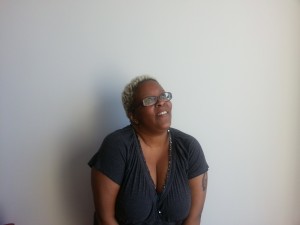 Soy originaria de Nueva York, crecí aquí. Me mudé a la Costa Oeste durante un total de veinte años. Cinco en Los Ángeles, y entremedias tuve la revelación de "creo que soy kinky, ¿qué puedo hacer?" Así que fui a San Francisco en 1996, y allí me acoplé de maravilla. Empecé enseñando acerca de Kink y temas relacionados con BDSM, y un año más tarde empecé a practicarlo abiertamente. Antes había estado enredando, pero es que es algo poco habitual simplemente aterrizar y proclamar "eh, soy una experta".
No lo hice, porque estaba entre gente que llevaba practicando el Kink y el BDSM desde hacía décadas. Yo les miraba y me preguntaba "¿qué tengo yo que decir que pueda aportarte nada a ti?". Lo que marcaba la diferencia es que no había casi nadie que se identificara con el papel de sumiso o esclavo y que quisiera enseñar ese papel o dar clases sobre ello. Muchas de las clases y discusiones versaban sobre cómo someter y atar a alguien, cómo jugar con cuchillos. Y todo lo que nosotros hacíamos (y por "nosotros" me refiero a los sumisos) era limitarnos a estar ahí quietos y dejar que nos utilizaran de todas las formas posibles en frente de una clase repleta de gente. El primer día fui usada como modelo para enseñar por mi amo de aquella época, que eneñaba Bondage japonés. Hay que entender que a finales de los 90 muy poca gente hacía shibari. Hoy en día, todo el mundo hace suspensiones, pero entonces era muy poco habitual, y él quería demostrar que te podía suspender aunque no fueras una chica flacucha. Y esto fue genial, porque cuando ves el porno que se hace sobre BDSM, siempre ves lo mismo. Aunque haya mejorado un poco, no es suficiente. Siempre se ve a la misma gente, todos en su peso, ella muy femenina, con buena línea y cuerpo ideal, tetas respingonas normalizadas y toda la mierda habitual.
En Alemania no se hace así
No, en Europa es diferente. Europa es más inclusiva que Estados Unidos.
Aquí (EE.UU.) empieza a cambiar, pero en parte porque la gente como yo ya está harta y dice "no me siento a gusto, es como si no fuera bienvenida a este espacio". Hacer aquellas clases de bondage me ayudó a superar el miedo a permanecer desnuda en  un aula llena de gente, contemplándome como un rosbif colgado del techo. Las demás mujeres me miraban con cara de "¿puedo hacer yo eso también?" y yo respondía "¡claro que puedes, y además debes hacerlo si es lo que quieres!". Lo maravilloso es que la gente empezó a hacerme preguntas a mí: cómo te sientes, no te aburres, duele, y todo lo demás.
Así que empezaron a decirme que exponía muy bien, a lo que respondía que llevo siendo actriz desde los 5 años, y me empezaron a pedir que les enseñara sobre sumisión.
Dos mujeres expertas en dominación me invitaron a hablar una hora en un evento de fin de semana, y accedí. Ellas eran dos figuras bien establecidas y respetadas en la comunidad, y me estaban invitando a mí, que era una recién llegada, lo que me puso un paso más cerca de decidir que lo que tenía que ofrecer era único y original. Y finalmente, quería reafirmar la capacidad de la gente que se identifica como sumisa o esclava para permanecer firme en su convicción de su propia humanidad y sus derechos.
Existe la idea de que los sumisos son como objetos débiles y lloriqueantes, encogidos en una esquina esperando a que se abuse de ellos… Ya sabes, gente que no tiene un lugar en este mundo y que por tanto necesitan que alguien les diga lo que tienen que hacer. Eso es lo que muchas personas dan por sentado. Y yo tuve que desmontar esto, porque en realidad los sumisos que conozco son poderosos, inteligentes, y fuertes.
LOS PROBLEMAS RACIALES
He hablado sobre esto, pero también he hablado sobre grabar vídeos que incorporen temática racial. Soy una persona negra, soy sumisa, y me identifico como esclava, y utilizar esa palabra ya es un problema en sí mismo.
Una persona blanca en América no puede practicar ese juego sexual de dominación en el que diga "soy el amo y tú la esclava". Una persona negra, puedo garantizarlo, sentirá como un gancho en las entrañas, e inmediatamente se romperá el juego mientras pregunta "¿qué es lo que acabas de decir?".
Me llevó años ser capaz de escucharlo sin retorcerme por dentro. Me decía a mí misma: es parte de lo que soy, parte de mi identidad. ¿Cómo me reconcilio con ello, cómo alcanzo el equilibrio entre lo que siento que me vuelve poderosa y la herencia racial que, obviamente, me arrebata todo mi poder y mi humanidad?
Hubo personas que me atacaron por Internet, afroamericanos que decían que lo que hacía y decía era peligroso, que potencialmente abría la puerta a que algunos blancos se reafirmaran en su creencia de que los negros querían en realidad ser esclavizados.
LA NORMALIZACIÓN DEL BDSM
¿Qué crees que hay de nuevo en el BDSM?
Voy a volver sobre la idea de que Internet ha cambiado la escena Kink. Históricamente hablando, la escena BDSM, la escena pública, tal como se practica en Estados Unidos, viene en gran parte de la comunidad gay masculina y Leather. Su florecimiento se dio en los años 60 y 70. Antes de eso, obviamente, si eras gay tu vida peligraba cada vez que tratabas de conectar con otro hombre, mujer o persona en general. Lo que empezó a suceder alrededor de la revolución sexual de los 60, que abarcó a todo el mundo, es que empezó a haber más gente que exploraba abiertamente su sexualidad. Todavía era arriesgado y peligroso, pero tenías gente dispuesta a asumir el riesgo. Y la gente que se identificaba como Leather tenía que unirse, porque incluso entre los gays, y recalco "incluso", corrían el riesgo de ser expuestos. Podrías pensar que por ser gays eran automáticamente liberales, pero no lo eran. Y así, lo que empezó a ocurrir en la revolución sexual es que el Kink y el BDSM empezaron a convertirse en algo más, poniéndose el acento sobre lo sucio y prohibido, lo underground que era, y lo secreto que seguía siendo. Parte de su atractivo era aquella naturaleza prohibida. Yo creo que siguió siendo así hasta que la crisis del SIDA golpeó y causó numerosas bajas entre las comunidades locales, sobre todo hombres. Lo que empezaron siendo prácticas exclusivas de la escena BDSM empezaron a ser vistas como seguras.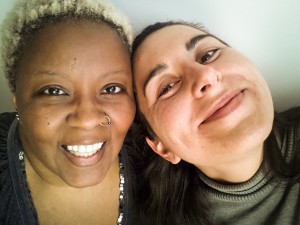 Por tanto, el mayor cambio que he apreciado es la aceptación del BDSM como una faceta más de la sexualidad, no algo secreto que debe ocultarse en una mazmorra. Por supuesto, si lo que te apetece es hacer algo secreto y ocultarte en una mazmorra, nada que objetar. Pero la idea de que es algo automáticamente prohibido creo que está empezando a desvanecerse. Se está volviendo algo más mayoritario. Y para mucha gente, eso echa a perder lo que les excita, tipo "no quiero que ahora todo el mundo se dedique a hacerlo".
Se ha formado un grupo en Nueva York, el GMSMA, que persigue la normalización del BDSM, y declara que es seguro y que está bien, y que puedes hacer vídeos sexuales y tener sexo más seguro. No tienes por qué estar bueno, ni tener contactos para poder disfrutarlo. Y así nace la idea del "seguro, sano y consensuado", que se ha convertido en la declaración de principios de cualquier persona "kinky".
Puedes seguir a Mollena a través de su web